Co-op Local Community Fund Helps Search and Rescue
Even we need help sometimes. That's why we're delighted to be chosen as one of the causes for the Co-op Local Community Fund, and here's how you can help us to help people far from help.
Every time members buy Co‑op branded products and services, from buying a loaf of bread to planning a funeral, 1% of their spend goes to a local cause, like ours. The Co-op has even kick-started the fundraising by giving us a share of the 5p customers pay for plastic bags now.
Find out what we're fundraising for here https://membership.coop.co.uk/causes/8538
You can help us to help people far from help by becoming Co‑op members, if you aren't already sign up here.

Posted on 19 / 04 / 2017
THATCHERS FOUNDATION CONTRIBUTES TO VITAL RADIO EQUIPMENT
Our challenging role is to be made easier with new VHF digital radios thanks to a donation by the Thatchers Foundation.
We work closely with Avon & Somerset Police to typically search for and rescue missing individuals in difficult ground, including cliffs and water, covering around 1800 sq miles throughout Somerset, Bristol and Bath. The 50 volunteers that make Avon & Somerset Search and Rescue, are on call 24/7. A registered charity, we receive no funding from any public body and rely entirely on public subscription.
Chris Thring, chair of Avon & Somerset Search & Rescue comments, "Our volunteers provide a vital service in searching and rescuing from difficult ground. We rely on financial support to keep us going, we are therefore very grateful to The Thatchers Foundation for their donation which will be put to valuable use through contributing to the purchase of new digital VHF radios.
"Radio communication between the search and rescue teams, and between the search control vehicle and individual teams is essential for the effectiveness of the work we undertake. The radios we currently use, analogue VHF, are increasingly unreliable and their effectiveness is poor. The new digital VHF radios will have many advantages and will allow our teams to function effectively to serve the population."
Mike Williamson, Trustee of The Thatchers Foundation, adds, "With the Mendips on our doorstep we are very aware of the commitment and dedication of the volunteers at the Avon & Somerset Search & Rescue. They deserve to have the most effective equipment to assist them in their challenging work, we are therefore very pleased to make this donation of £5,000 which will bring them towards their target for the purchase of their new radio communications."
The Thatchers Foundation has been set up by the Thatcher family to help and support community and charitable activities, in particular in the parishes of Sandford, Winscombe and adjoining villages. Contributions to individuals or organisations may be through financial grants, or through the donation of time and physical help. For more information about the Thatchers Foundation, visit www.thatcherscider.co.uk/thatchers-charitable-foundation/

Posted on 25 / 02 / 2017
New State of the Art Vehicle to Help Search for Missing People
A brand new vehicle that will Avon & Somerset Search and Rescue becomes operational on 1st November. The new Incident Control vehicle is fitted with state of the art technology to help find missing people.
Adrian Payne, ASSAR Vehicle Officer said, 'This new Incident Control vehicle takes us to the cutting edge of being able to help people far from help. We have to be able to plan and coordinate search and rescue operations from a wide variety of locations. Typically we get called out to remote places in the middle of the night and have to be able to operate with no or limited support. It's been a huge fundraising effort from everyone and lots of time fitting the kit from fellow team members but we know this will help us become even more effective.'
Avon & Somerset Search and Rescue (ASSAR) are the police's chosen search and rescue resource in Avon and Somerset. Staffed by volunteers they are on call 24/7 365 days a year, whatever the weather or time of day. They get called out around 35 times a year to find missing high-risk and vulnerable people. They have been involved with high profile cases such as Charlotte Bevan and Joanna Yeates in Avon Gorge along with many incidents in Cheddar Gorge and across the area.
The vehicle is a long wheel base VW Crafter. It has been fitted with the latest technology by specialists within ASSAR. To help plan searches and coordinate rescues the operational control area has;
A server, Local Area Network and wi-fi connectivity
Two docking stations and 24" monitors for Toughbook laptops loaded with computer mapping and software for administering a search
Three of the latest digital radios and a wide range of charging points
Planning area for collaboration with other emergency services
Welfare facilities to cater for ASSARs search specialists
A second bulkhead fitted to contain a caged unit for ASSARs search kit and stretchers
The trustees of ASSAR would like to thanks all the team members who helped fundraise for the vehicle over the last few years and the community of Avon & Somerset who have been so generous. We would also like to thank Pearce Bros and Eurosigns for their kind support.
Posted on 01 / 11 / 2015
ASSAR Welcomes Five New Team Members
After two years of showing the commitment and competencies required five trainees became full team members.
Ben, Jenny, Yaron, Dave and Ian had to spend at least 6 months learning the core competencies required of every team member. After this initial period they were invited to selected callouts to see them put all the training into practice.
In front of all the potential new team members at this years selection weekend the five were presented with their hi-vis jackets that show they are truly part of a unique team. The rest of the team welcome them on board and wish good luck to this years trainees.
Posted on 27 / 10 / 2015
Accountants Learn to Search and Rescue
Avon & Somerset Search and Rescue (ASSAR) revealed some of the techniques they use to a local accountants firm on 24 June. Staff from Old Mill Accountants spent the day with the team and were led through training in the morning and then expected to put it all into practice in a large search and rescue exercise in the afternoon.
Using land and facilities generously provided by Mendip Snowsport in Churchill, Old Mill's staff were taught navigation and search skills alongside putting specialist stretchers together and handling them safely.
During the exercise the accountants were tasked with finding and rescuing one of their colleagues from a tricky situation in woodlands. To add pressure ASSAR added another casualty into the scenario! We're pleased to announce that both the casualties were moved to a safe location, our congratulations to all the staff at Old Mill.
Andrew Moore, partner at Old Mill, commentated afterwards that it was a "superb day" and that the event had had a "universally positive response" from the staff attending.
Old Mill made a generous donation to the Team of £1250 on the day. A Team spokesman stated that "the rescue team relies completely on donations and this sum will go some way towards upgrading the Team's vehicles and communications equipment".
ASSAR is an emergency service staffed by volunteers on call 24/7 365 working on behalf of Avon and Somerset Police. If your company would like to spend a day with the team please contact communication@assar.org.uk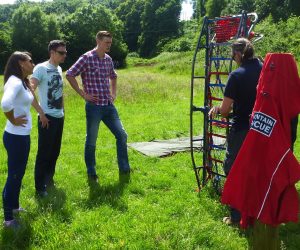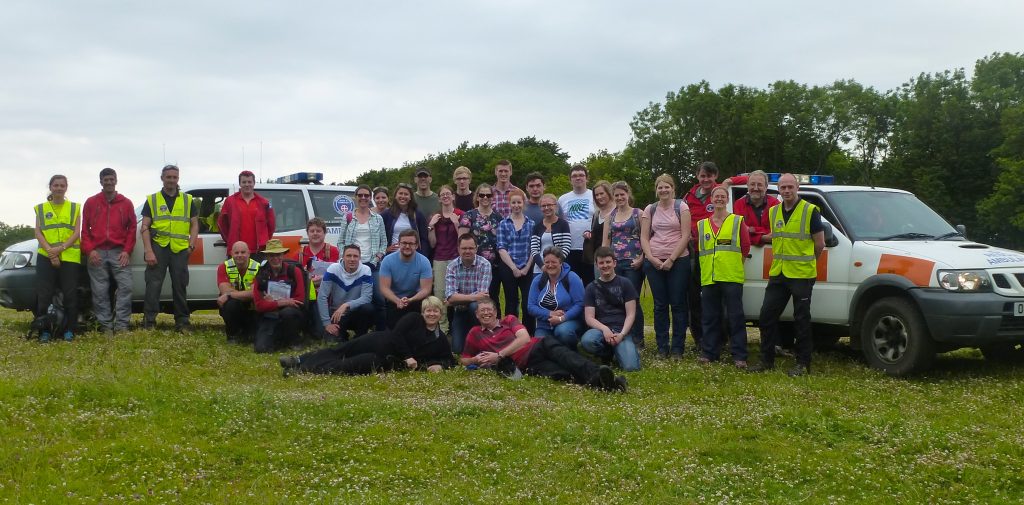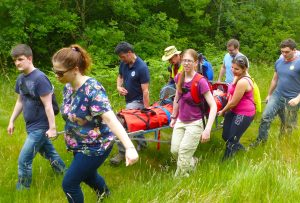 Posted on 06 / 07 / 2015