Resources
A&SSAR has fifty plus dedicated trained rescue and support members to call upon and extensive access to other specialised outdoor personnel.
A&SSAR has two dedicated mountain rescue posts;
Avonquay, Cumberland Basin, Bristol
Cheddar, Caves Complex, Somerset
A&SSAR runs a fleet of 4 emergency response vehicles
They are based in 3 strategic locations within our operational area. Currently 2 vehicles based in Bristol city centre, 1 near Clevedon and 1 in Cheddar Gorge. This is generally where we are called to and also located nearby to team members homes. All our vehicles are serviced every year regardless of millage to ensure they are fully reliable for every incident we are called to. If you would like to donate to the upkeep of our vehicles, you can do this through our Virgin moneygiving page.
Moving forward 40 years from the vehicles previously used by the team (which can be viewed here) you can see we have progressed to a current fleet more fit for today's purpose of looking after the public of Avon and Somerset area.
VW Transporter. Call Sign SA.
This is our Rope rescue unit.  It was purchased by us in 2021.  It carries our technical rescue equipment, such as ropes and harnesses. It is converted to suit our needs with the extensive array of equipment needed to extract a casualty from steep ground or cliffs in Avon Gorge, Cheddar Gorge and other quarries and cliffs within Avon and Somerset. With racking, it allows easy access to everything as quickly as possible. It also carries a range of first aid medical equipment as well as one of the teams Bell Stretchers.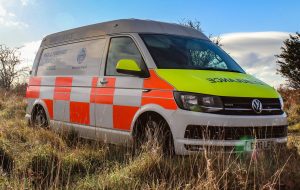 VW Crafter. Call sign SB.
This is an ex panel van, purchased from Pearce Bros Autorentals in 2015. This is our incident control vehicle. Most of the conversion work has been carried out by a few very skilled and dedicated team members over a six-month period with an estimated 1,000+ person hours of work to complete what have today. It only carries 2 passengers, along with the driver, up front as the main compartment is now our office, when attending an incident of any nature. It allows the incident controllers to run the incident in a dry and quiet environment and therefore enable us to maximise our resources.  Containing laptops and printers we can bring up maps of a particular area and also track team members who are out searching for a missing person. It also allows the search coordinator to see in real time where everyone is and utilise our members in the best way possible. This vehicle also carries an extensive range of medical equipment and most importantly refreshments to replenish the team's members when out on a prolonged search. This is the costliest vehicle of any team and the most valued vehicle in our current fleet.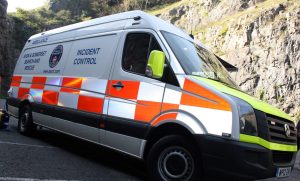 VW Transporter. Call sign SPB.
This is our latest addition to the fleet and one we are very proud to own. Purchased in February 2020 and is our water response vehicle. It was part funded by Tesco Bags of Help  scheme and in memory of team member Pete Baker who sadly passed away very unexpectedly in 2019. It was converted by Simply Surf Bus Ltd in Clevedon and will be a great asset to the team.  Designed to carry the water responders and their personal equipment such as dry suits to any flooding incidents or water-based searches. It is fully waterproofed inside so can be washed out and decontaminated after any flooding incidents. The front seats have been designed to spin round as to face the rear and with a table can be utilised as a temporary incident control vehicle.  It's also somewhere dry and warm for the water responders to change in and out of their dry suits and other water rescue equipment.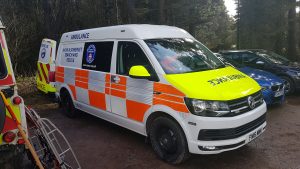 Landrover Defender 110. Call Sign SV.
Based in Cheddar, this vehicle has been specially converted for Mountain Rescue use and carries up to 5 team members and their personal equipment and also search party equipment as well as a small amount of medical equipment. The defender has various extras fitted including a safari snorkel to aid us when travelling off road. Also fitted is the roof rack for storage of extra equipment, freeing up space inside the vehicle. We are the third mountain rescue to team to own this specialist vehicle, after purchasing it from our colleagues at Calder Valley Search and Rescue Team up in Yorkshire. This was after they replaced it with a newer vehicle.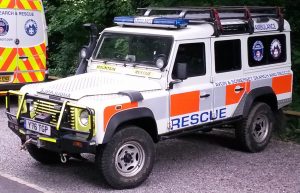 Helicopters.
Mountain Rescue teams from all over the country also rely heavily on the Coast Guard and air ambulance for assistance in either assisting in searches or to extract a badly injured casualty and transport them to hospital in a quicker time than we could do ourselves. We train regularly with the coast guard crews to familiarise ourselves with the operation and safety of helicopters. This enables us to have a better understanding of the helicopters and its dangers.
A&SSAR has an extensive portable radio network and A&SSAR members are trained in its use.
A&SSAR has portable IT systems used for search management including GIS mapping.