Old Transport History
This page covers our older and now retired, sold or scrapped vehicles. For our current fleet of vehicles please go here
The City and County of Bristol Police Force originally used this converted Austin Morris tow truck; it was equipped with 2 independently controlled slipping clutch mechanically driven drum winches on the rear. The drums had no braking system on, so they had to keep moving in one direction or another all the time. This tended to create a sawing action on the cable as it went over the edge of the Avon Gorge. This cut grooves which can still be seen in places. All the rescue equipment was stored in the lockers along both sides of the vehicle. This vehicle was in operation circa 1960 to mid 1970s.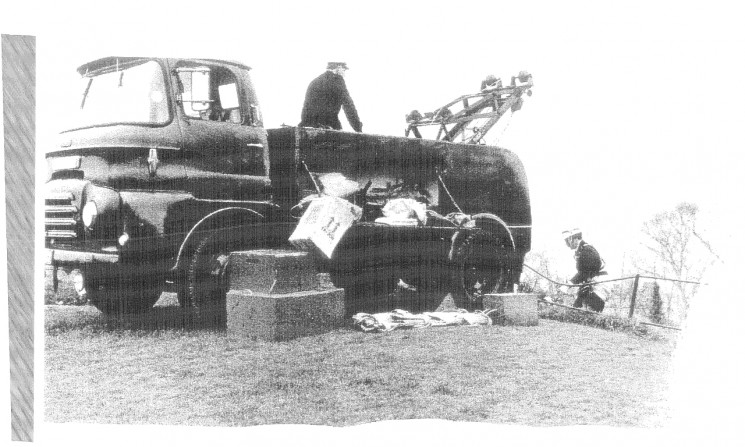 The, now, Avon and Somerset Constabulary then changed over during the mid/late 1970s for a few years to using this Series 2 109" Landrover, with towed equipment trailer, slightly modified with Series 3 headlights due to unit mounted in front of the radiator grill. This had a hydraulically operated drum-winch mounted on the back that had a proper braking system, allowing the cable to be brought to a complete stop. A great improvement over the previous rescue vehicle for the rescuer on the end of the cable I suspect! As a result of changes in Health and Safety laws the wire cable had to go for full load testing and inspection after every use. However the winch did have a tendency not to start or stop on demand, which could be rather embarrassing, particularly when it broke down during a live on air interview with the (now late) Radio Bristol presenter Roger Bennet actually in the stretcher. The Landrover then sat as a reserve contingency vehicle gathering dust until the early 1980s when it was broken up. The trailer was passed on to the new Avon Rocks Rescue Team who eventually sold it on to Severn Area Rescue Association (SARA) for the grand sum of £1.00. SARA still uses it to transport their generator and portable lighting rig.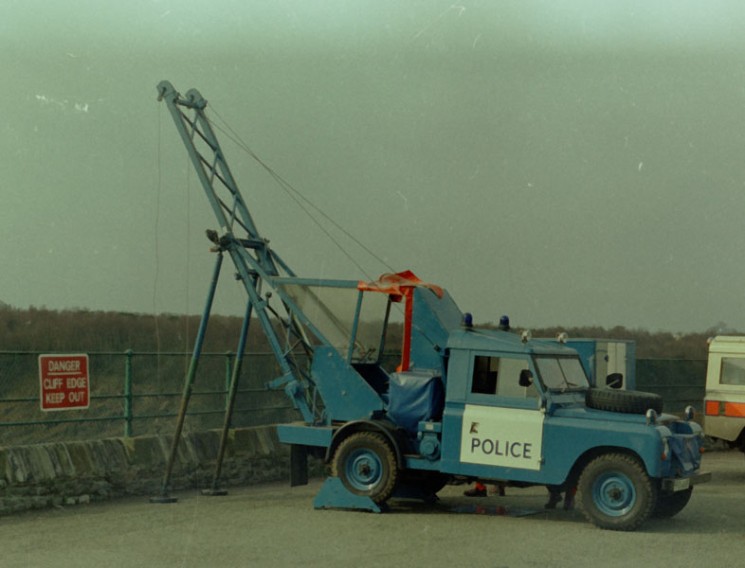 During the early 1980's the blue 109" was superseded by this white Series 3 127" Stage 1 V8 Landrover, slightly modified with wider offset wheel rims and 110 wheel arch eyebrows, with a similar winch set-up as the previous blue 109".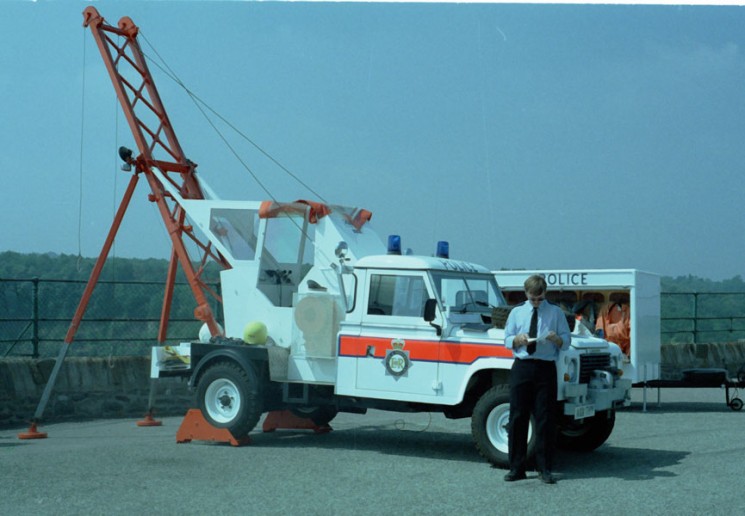 Not long after this Avon and Somerset Constabulary ceased their involvement in the live end of cliff rescue and allowed all the civilian volunteers to set up as an independent Mountain Rescue Team called Avon Rocks Rescue originally based at Severn Shed in Bristol.
The next vehicle I am aware of was an early Ambulance bodied 6×6 (we think) Range Rover. It was fitted with Fairey self-levelling rear air suspension. This proved to be a bit of a white elephant and a continuous money pit. It was fairly quickly disposed of. (Stock photo, we haven't been able to find a picture of the one we had)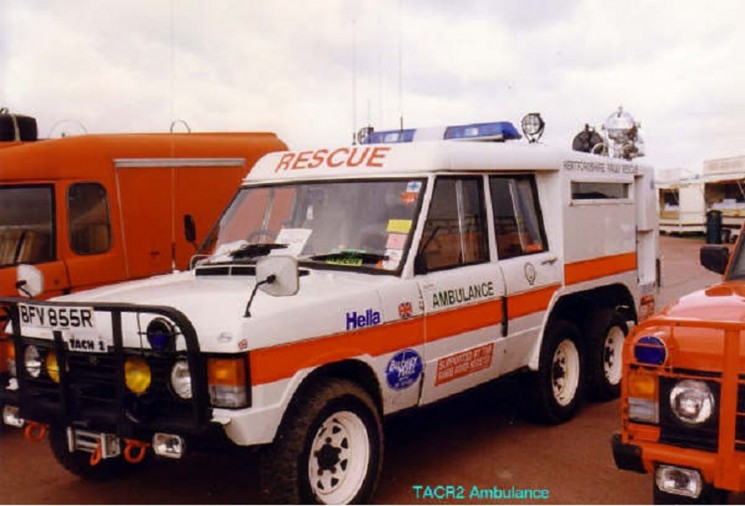 The next acquisition was the Series 2 88" Landrover obtained from Somerset Fire Service (originally based at Watchet and towed a trailer mounted turntable ladder) and was operational with the team from the late 1970s / early 1980s until the mid 1990s. I think it had the original 2.25L 4 Cylinder petrol engine. It never really was capable of going fast enough to provide a rapid response but would always keep going when the going got tough! I understand that when the team finished with it, it was donated in 1998 back to a Fire Service Museum for restoration.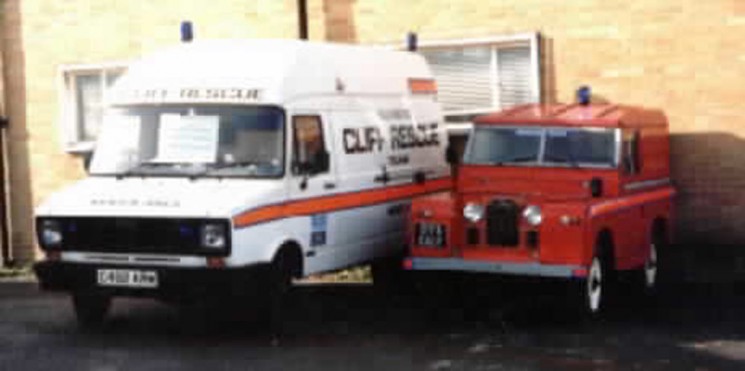 During the late 1980s the team were then given an ex British Gas Board Hi Top Long Wheel Base Sherpa Van, It had a 2.5L Naturally Aspirated Diesel Engine and was once overtaken going uphill on the way to a callout by a Robin Reliant. It was kitted out inside to provide rescue equipment storage in the rear and crew area in the middle that could serve either as control room, tea point or seating for on the road. At the end of its life with the team it was decommissioned and taken away by a vehicle salvage company.
During the mid 1980s the British Gas Board provided us with a Landrover V8 petrol van, which had a pump up mast, mounted on the rear. The vehicle had its original British Gas Board paint scheme changed to a vivid canary yellow. We eventually passed this vehicle onto the Dartmoor Rescue Group.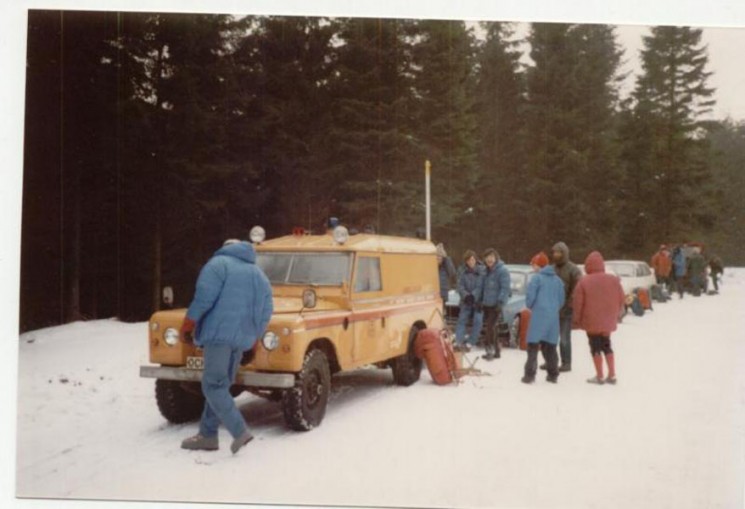 Just as the Sherpa was about to expire Avon and Somerset Constabulary took pity on us and kindly donated two of their end of service Mercedes Benz 310 Crew Buses. The first one came on line during June 2000 and took over as our dedicated Cliff Rescue Ambulance and equipment store. At this time the team were developing a much greater Search capacity and during August 2001 we took delivery of the second bus from Avon and Somerset Constabulary to be a dedicated Search Rescue Ambulance, search control and command post. Both of these two buses have now been decommissioned and are waiting crushing in line with our agreement with the Avon and Somerset Constabulary.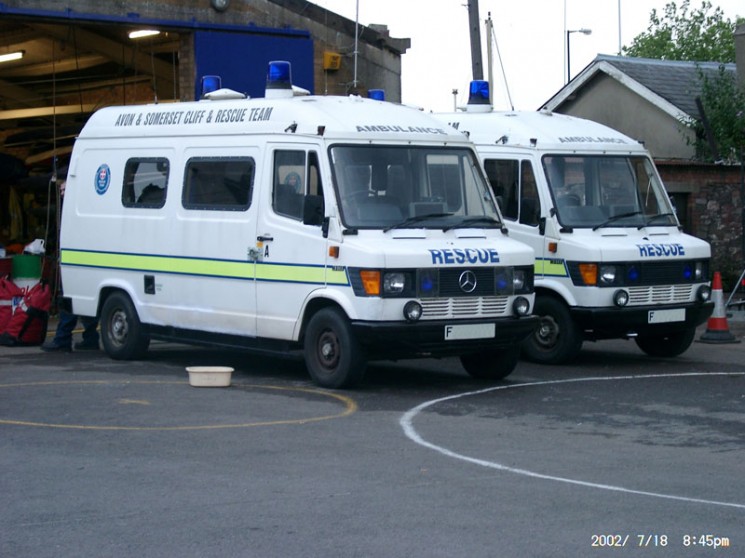 The Wheels Project in Bristol donated to the team two Landrovers. The first was a Series 3 109 (possibly) Stage 1 3.5L V8 petrol van body. Its main base of operations was around the Mendip Hills and was used to provide transport of personnel and equipment to areas not easily accessed by the team buses. This vehicle has now been sold on following the acquisition of a more modern replacement vehicle.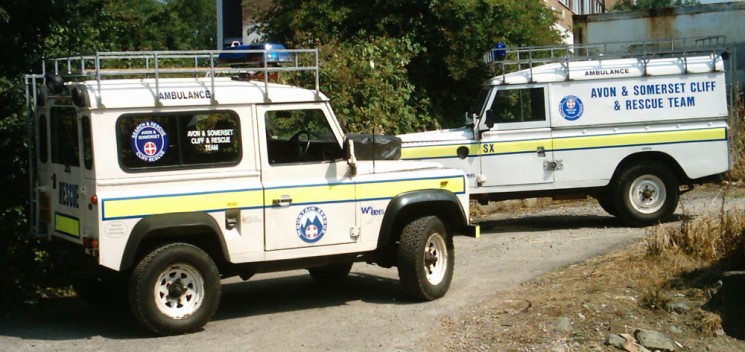 The second is a Landrover 90 Turbo Diesel. This vehicles main base of operations is North Bristol and South Gloucestershire and is also used to provide transport of people and equipment to areas not easily accessed by the team buses. This vehicle has now been sold on following the acquisition of a more modern replacement.
The Series 3 109 Stage 1 V8 Landrover was replaced in late 2006 with a custom converted Japanese import Mitsubishi Delica Exodus. The vehicle was sourced by local Mendip garage N & P Autos and paid for by grant from the Somerset Aggregates Levy Sustainability Fund and funding from Active Mendip. The conversion into a specialist Rescue and Ambulance Co-Responder vehicle was undertaken as a result of donations of time, money and materials by various individuals, groups and organisations from around the Mendip community. The vehicle has now seen much use both with Great Western Ambulance Service (GWAS) and Avon and Somerset Search and Rescue (ASSAR) including being nearly waterlogged during the Tewksbury floods. This has now been replaced by a newer vehicle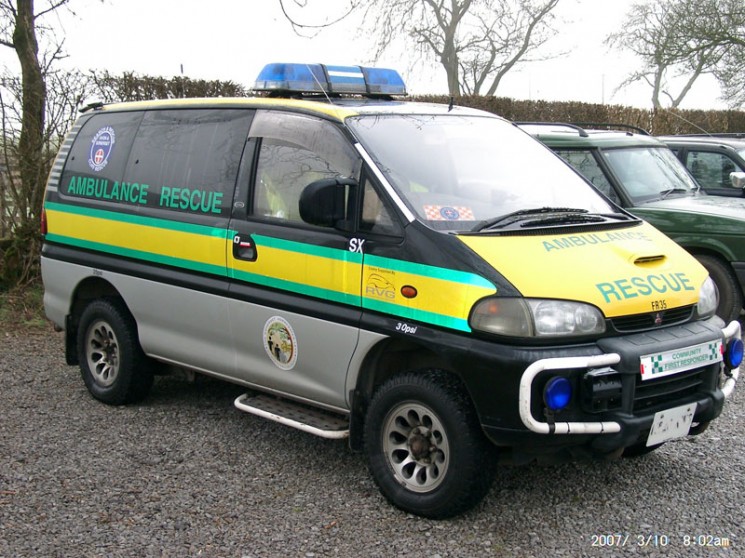 During late 2006 we purchased from Great Western Ambulance Service one of their end of service Ambulances. It is a UV Modular custom-built body ambulance based on a Mercedes Benz Sprinter 312D Chassis and Cab. It has a 2.5L 5 Cylinder Turbo Intercooled Diesel Engine and has clocked up over 300,000 miles. It is fitted with self-levelling rear air suspension, air conditioning, rear cabin space heater and still has the original ambulance service stretcher. The vehicle has taken over from the previous Mercedes Benz 310 Crew Bus Search Rescue Ambulance and is now our dedicated Search Rescue equipment vehicle and mobile Search Rescue command and control post as well as still having full capability as ambulance transport. This has now been replaced by a newer vehicle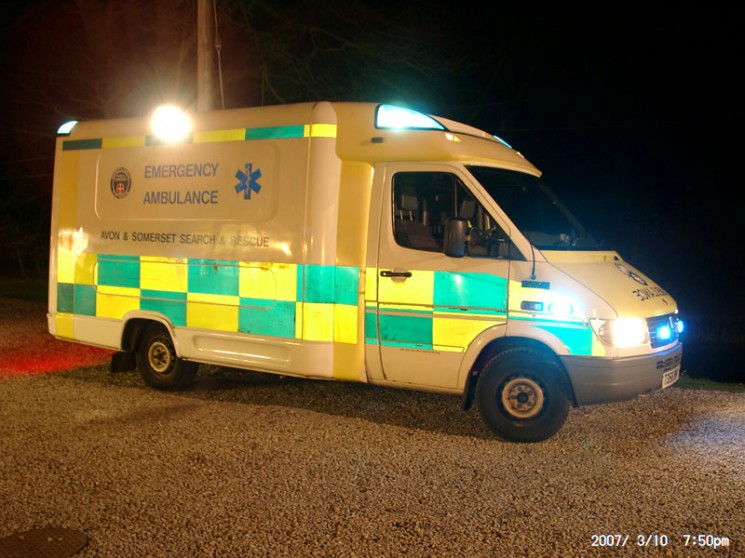 On the 8 th October 2007 Avon and Somerset Constabulary presented the team with one of their end of use custody LWB Semi Hi Top Ford Transit vans to the team. This vehicle is now in use as our Technical Rescue ambulance and equipment vehicle and has replaced the previous Mercedes Benz 310 Crew Bus. This has now been replaced by a newer vehicle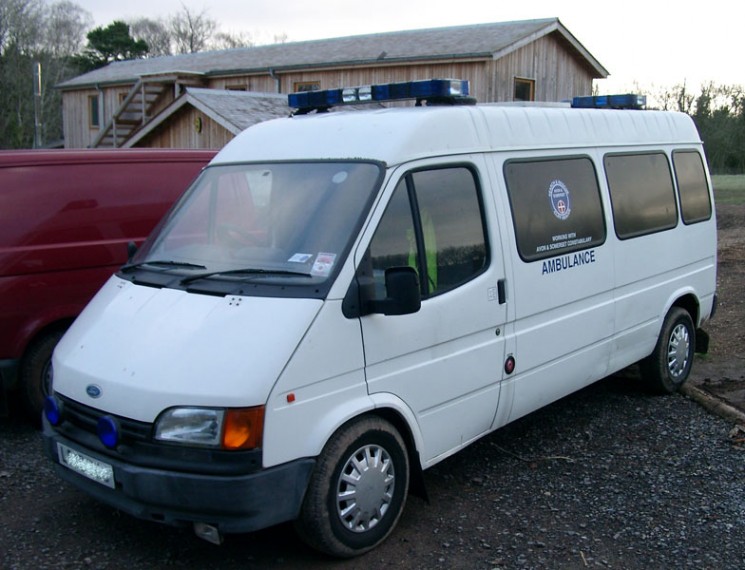 Also on the 8th October 2007 Avon and Somerset Constabulary presented the team with one of their old Mercedes Benz 800 series vans to the team. The vehicle is set-up as a major incident support van with inflatable rescue shelter, shower, sink, coordination and planning room etc and water rescue response and launch vehicle. This has now been retired from the team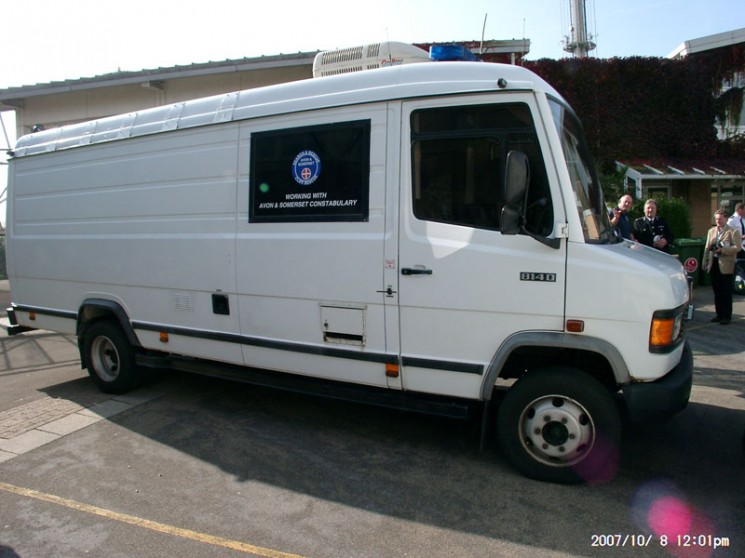 And finally, on the 8th October 2007 Avon and Somerset Constabulary presented the team with one of their ex Nissan Terranos as a replacement for the 90 Turbo Diesel Landrover and is now equipped as a specialist rescue and ambulance co-responder vehicle, based in the South Gloucestershire and North Bristol area. This has been replaced by a newer vehicle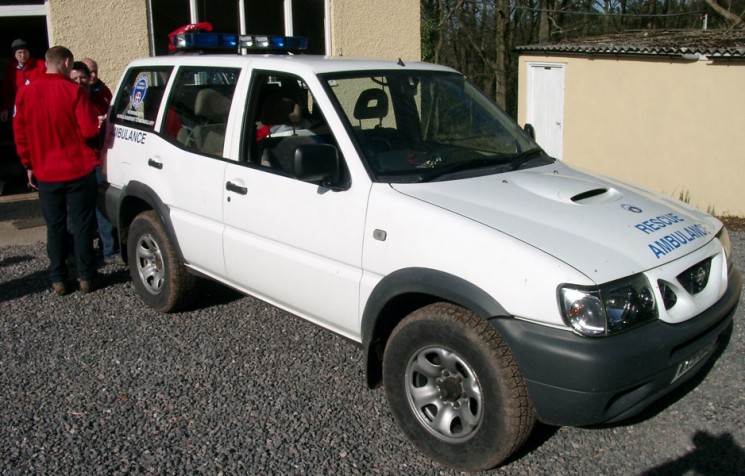 This is our Rope rescue unit.  It was kindly donated to us by Avon and Somerset Police in about 2011.  Formally a police riot van and carrying our technical rescue equipment, such as ropes and harnesses. It was converted by a local company to suit our needs with the extensive array of equipment needed to extract a casualty from steep ground or cliffs in Avon Gorge, Cheddar Gorge and other quarries and cliffs within Avon and Somerset. With racking, storage lockers and overhead heating, it allows easy access to everything as quickly as possible. It also carries a range of first aid medical equipment as well as one of the teams Bell Stretchers. It has been replaced by a newer vehicle in 2021.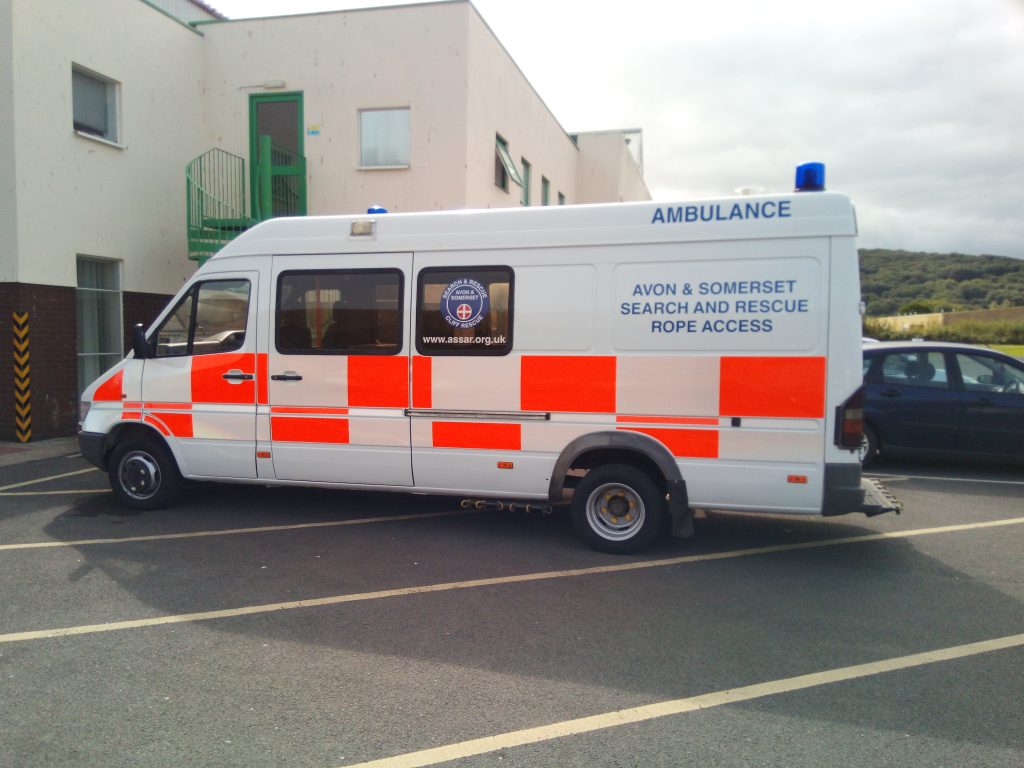 Not owned by the team! However we did get the occasion to work with RAF 22 Squadron "A" Flight RMB Chivenor operationally and have the occasional familiarisation flight in the Seaking helicopters. UK SAR Helicopters have now moved from the military to HMCG (operated by Bristows)